Our Villa
Finding us in Phuket
Phuket island is approximately 50km long from north to South and about 15 km wide. The airport is at the north of the island, near to the bridge that connects Phuket to Phang-Na province. Phuket fronts on to the Andaman sea to the west and Phang-Na bay to the East.
Phuket town is found in the centre of the island on the East side.
All the popular beaches are found on the western side of the island and enjoy the beautiful sunsets. The southernmost beach of Nai Harn benefits from being both west facing but also sitting in Phuket's most beautiful and mountainous bay. Being the southern end of the island means the area has sea on three sides – east, west and south.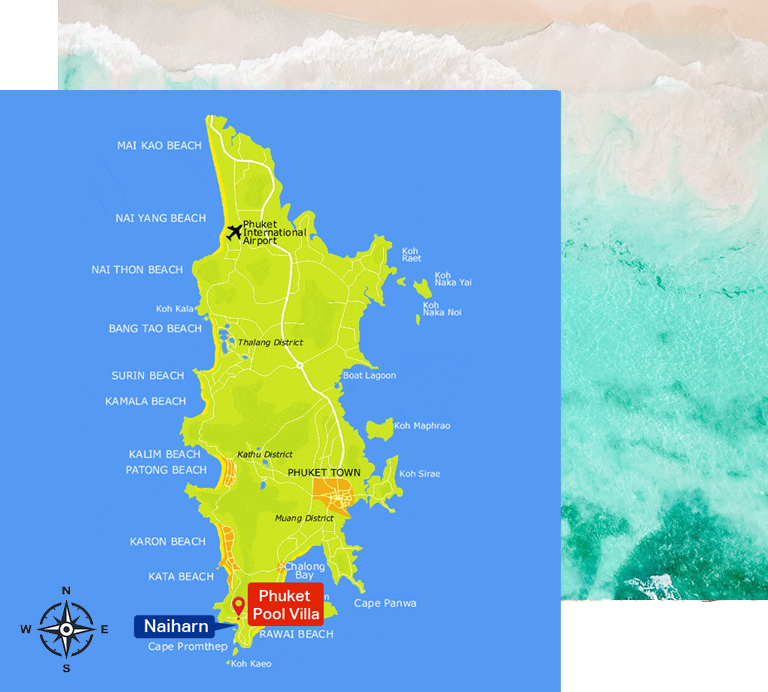 Nai Harn beach is one of Phuket's truly natural beaches.
With minimal development overlooking the beach it has the feeling of privacy and seclusion. It has a wild and natural tropical backdrop with a tree lined fringe that gives people the opportunity to seek shade and cool when needed.
A beautiful lake leads you to the beach, which can be approached from either side. In the mornings and evenings joggers and strollers enjoy the cool surrounds of the lake path and take their exercise.
Our villas are just two minutes from Naiharn lake and an easy stroll to the beach.
Naiharn village surrounds the roads leading to the beach. It is laid back and has everything you need during your stay. Supermarkets, fresh produce, restaurants, pubs, car and bike hire, travel agents, massage shops and much much more.
Just two kilometers from Nai Harn Beach is Rawai Beach. This is a busy beach for the long tail boats to go to the islands and out fishing. There are plenty of bars and restaurants along the beach, it is the perfect place to find fresh seafood and cold drinks, looking out to sea. The perfect place to end the day.